Relationship
50 Subtle Ways to Say I Appreciate You to Your Partner
Everyone, whether they wish to acknowledge it or not, likes to be praised and valued for all that they do. However, the phrase I appreciate you can feel too formal and cold when expressing gratitude to your partner.
Romantic relationships are a deeply personal part of the human experience and it's important to constantly be pouring words of love and affirmation into these relationships to keep them strong.
Here are fifty little sentences to subtly let your partner know how much they mean to you when the phrase I appreciate you just won't cut it.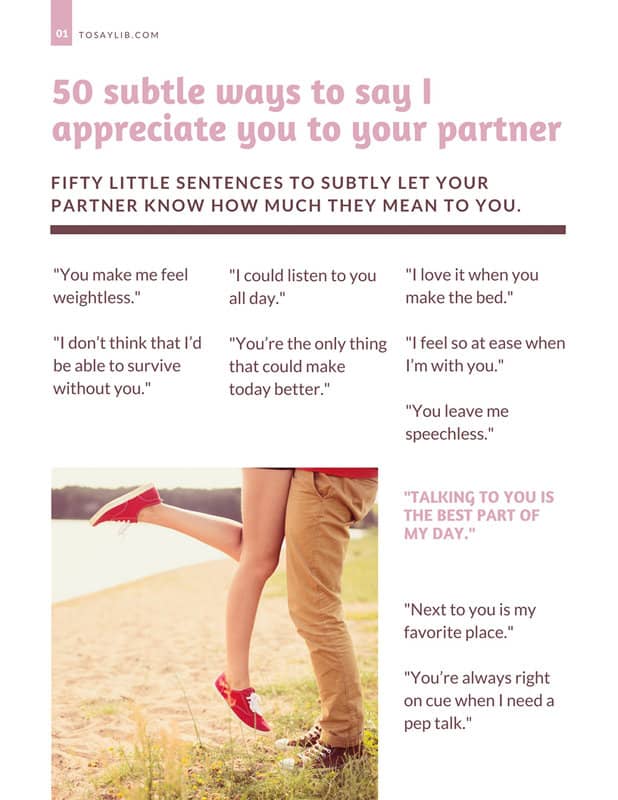 Image from Canva – under one-time use license
01
"You make me feel weightless."
02
"I don't think that I'd be able to survive without you."
03
"I could listen to you all day."
04
"I love it when you make the bed."
05
"You're the only thing that could make today better."
06
"I feel so at ease when I'm with you."
07
"Talking to you is the best part of my day."
08
"Next to you is my favorite place."
09
"You're always right on cue when I need a pep talk."
10
"You leave me speechless."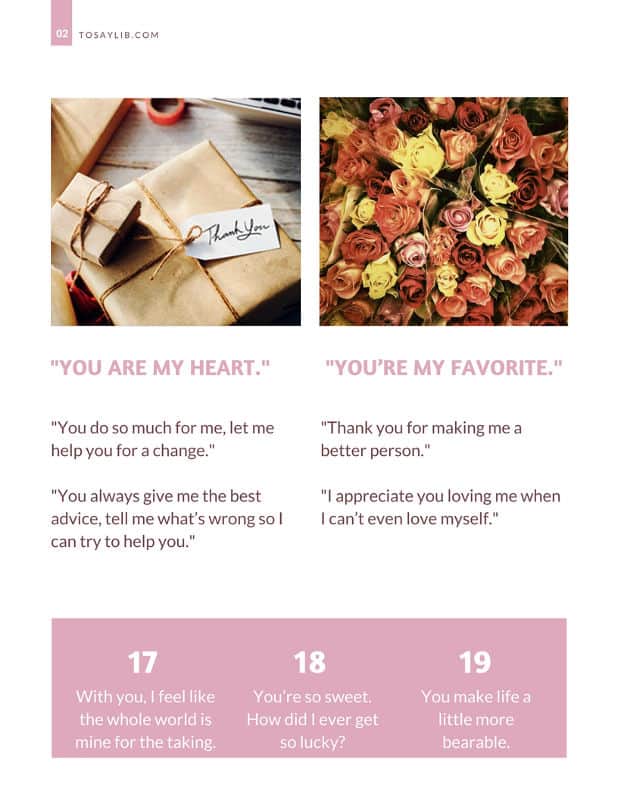 Image from Canva – under one-time use license
12
"You do so much for me, let me help you for a change."
13
"You always give me the best advice, tell me what's wrong so I can try to help you."
15
"Thank you for making me a better person."
16
"I appreciate you loving me when I can't even love myself."
17
"With you, I feel like the whole world is mine for the taking."
18
"You're so sweet. How did I ever get so lucky?"
19
"You make life a little more bearable."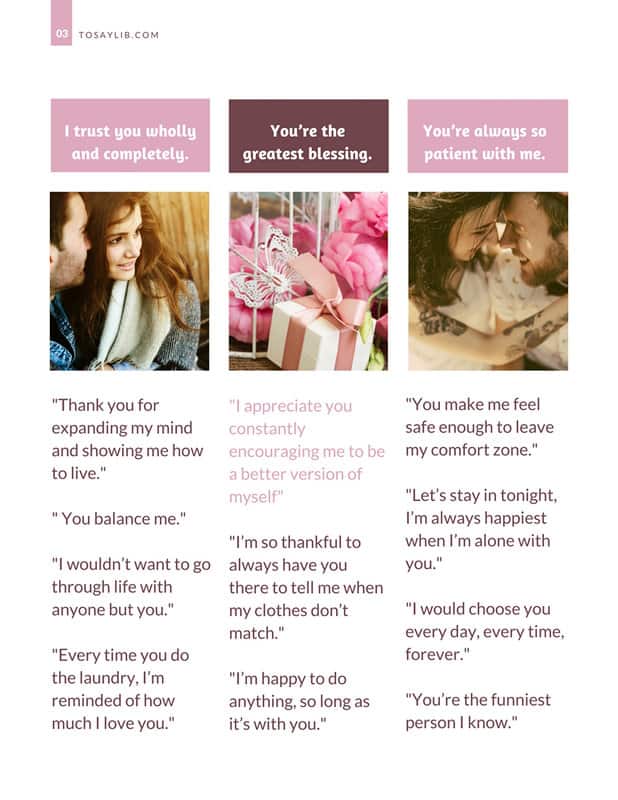 Image from Canva – under one-time use license
20
"You're the greatest blessing."
21
"Thank you for expanding my mind and showing me how to live."
22
"I trust you wholly and completely."
24
"I wouldn't want to go through life with anyone but you."
25
"You're always so patient with me."
26
"Every time you do the laundry, I'm reminded of how much I love you."
27
"I appreciate you constantly encouraging me to be a better version of myself."
28
"I'm so thankful to always have you there to tell me when my clothes don't match."
29
"I'm happy to do anything, so long as it's with you."
30
"You make me feel safe enough to leave my comfort zone."
31
"Let's stay in tonight, I'm always happiest when I'm alone with you."
32
"I would choose you every day, every time, forever."
33
"You're the funniest person I know."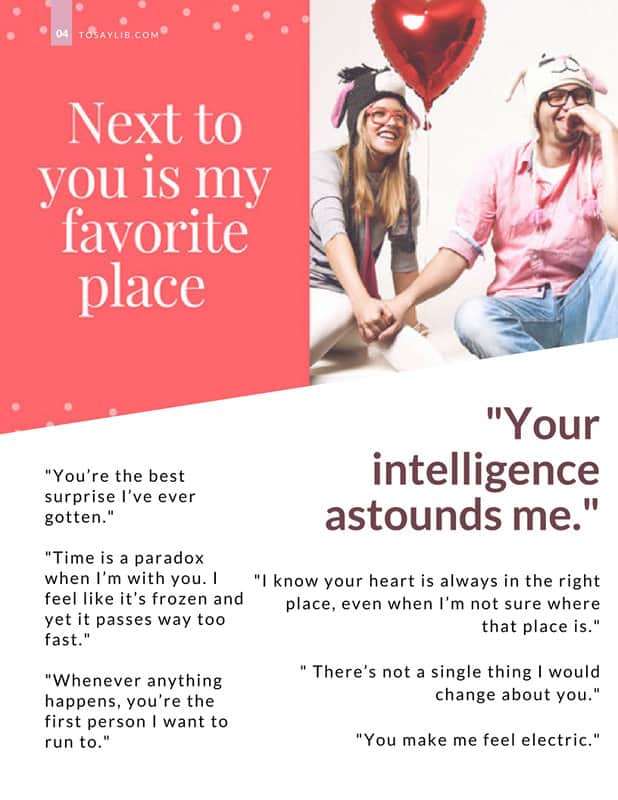 Image from Canva – under one-time use license
34
"You're the best surprise I've ever gotten."
35
"Time is a paradox when I'm with you. I feel like it's frozen and yet it passes way too fast."
36
"Whenever anything happens, you're the first person I want to run to."
37
"Your intelligence astounds me."
38
"I know your heart is always in the right place, even when I'm not sure where that place is."
39
"There's not a single thing I would change about you."
40
"You make me feel electric."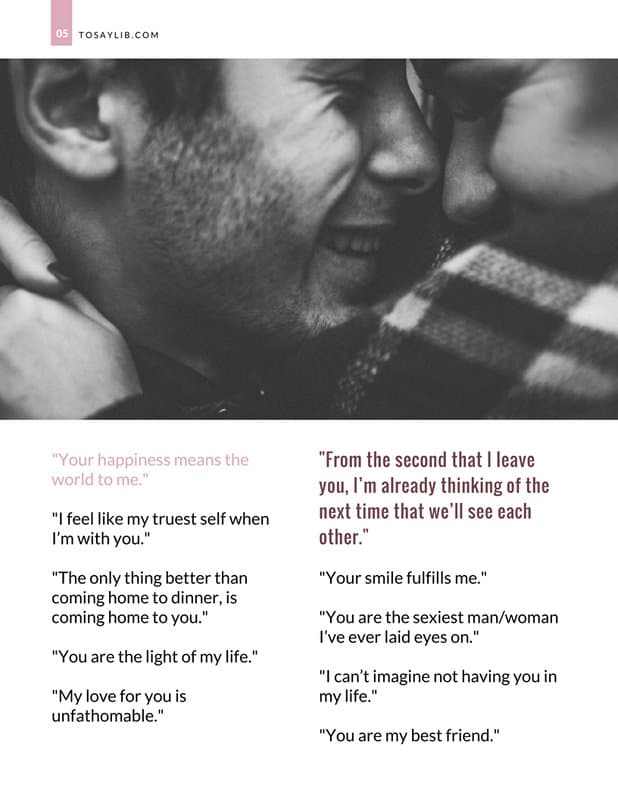 Image from Shutterstock – under standard license
41
"Your happiness means the world to me."
42
"I feel like my truest self when I'm with you."
43
"The only thing better than coming home to dinner, is coming home to you."
44
"You are the light of my life."
45
"From the second that I leave you, I'm already thinking of the next time that we'll see each other."
46
"My love for you is unfathomable."
47
"Your smile fulfills me."
48
"You are the sexiest man/woman I've ever laid eyes on."
49
"I can't imagine not having you in my life."
50
"You are my best friend."