Thank you notes have always been a great way to express gratitude. For brides, they also make the expression a bit more personal and sophisticated. A simple thank you note to bridesmaids can make a very big difference. But what about if you have trouble writing a thank you note to your bridesmaids on your own?
We have a series of special thank you notes to your bridesmaids that you can use and modify below.
Heartfelt Thank You Notes to the Maid of Honor

In any wedding, the maid of honor is a special individual, usually the bride's close friend or someone respectable from her church. Her role involves catering to a bride's every need throughout the wedding process.

Below are 8 examples of a thank you note to bridesmaids that are specific to maids of honor.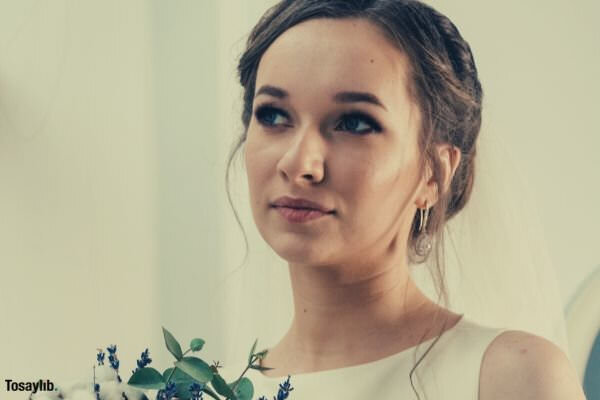 Photo by Irina Iriser from Pexels
01
Trina, I don't know how I can ever repay you for your generosity, love, and kindness to me all these years, and more especially at my wedding last Tuesday.

It was a success because of you, and I'll never forget that. Thank you.
02
Dear Allie, thank you for last weekend (my fabulous wedding) and the months of preparation that you dedicated to me.

Thank you for keeping on top of everything and all those late nights. I finally have my ring and my memories, and you contributed greatly to all of that. Thank you, and God bless you!
03
My dear Jane, this is my way of saying thank you for everything you contributed last weekend to my wedding. I'd have loved to thank you in person, but I couldn't help writing this first.

Peter and I thank you immensely, and we love you.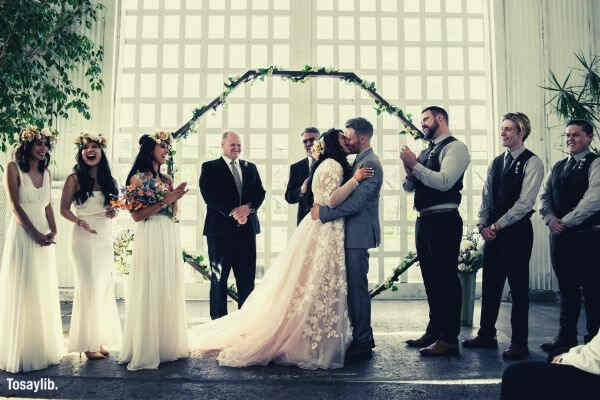 Photo by Kendra Allen on Unsplash
04
To Alice, my maid of honor: I had the wedding of my dreams last week, and it was all because of you and your support. Thank you for everything.

PS: Greece really is a great honeymoon spot. John and I are just glowing after only days here. Thank you for the recommendation.
05
Dear Evariste, if proof was ever needed of how wonderful, resourceful, and generous you are, your role at my wedding would be it.

I have never felt more secure in another person's hands before. From the bottom of my heart, thank you so much.
06
Hi Grace, this is to say thank you for being my wonderful maid of honor last week.

Looking back, it's hard to believe I once thought I wouldn't need a bridesmaid. There's just so much work that goes into the small details. So, thank you, love.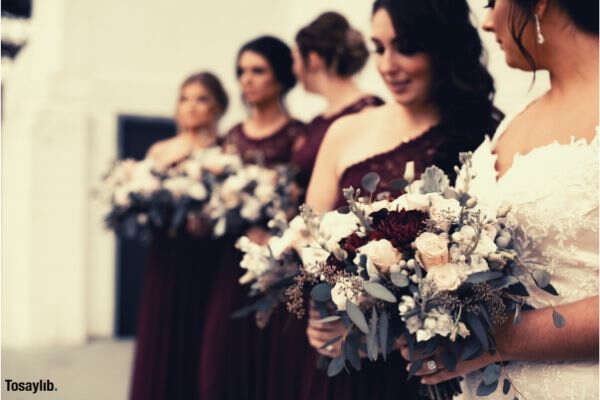 Photo by Devon Divine on Unsplash
07
Dear Rose, when I set out to choose my maid of honor, all I knew was that I wanted it to be a good friend and a good person.

You turned out to be the perfect choice: a super close friend and a wonderful person who was ready to support me the whole way and make my day memorable.

Thank you very much for everything, my dear.
08
Dear Alice, thank you for being the best maid of honor I could ever wish for.

I will never forget your dedication to making sure everything was perfect, even if that meant working until midnight for weeks. Love you forever, girl.
A Thank you note to your bridesmaids

There is a reason bridesmaids continue to be staples at weddings across the world.

Not only do they add character to the wedding, but they also support the bride in her preparations. Check out these 12 ideas for a thank you note to bridesmaids below.
Photo by Emma Bauso from Pexels
09
Dear Jane, about my wedding last Friday, thank you for being the best bridesmaid anyone could want. You and the other girls looked absolutely gorgeous and so happy.

It was comforting knowing that you were there with me and happy for my achievement. Thank you.
10
Hey Lindy, thanks for putting everything aside and playing bridesmaid for me last weekend. You girls looked super cute in the photos.

After all the fun we had, no one can say my wedding wasn't a success. Lots of love.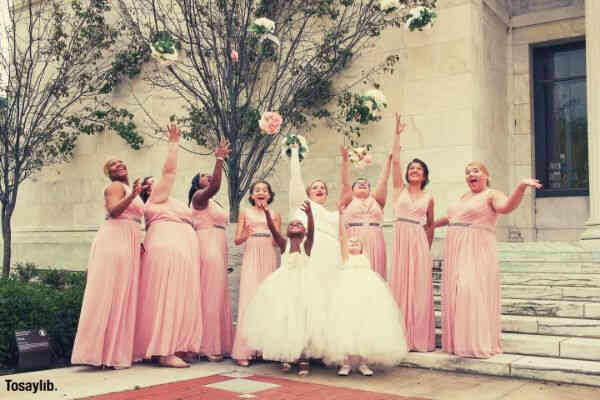 Photo by Maria Lindsey Multimedia Creator from Pexels
11
Christie, darling, this is to say thank you for last weekend when you donned that blue dress and joined the line as one of my bridesmaids.

You helped me realize the wedding of my dreams, and I am forever thankful. I hope you had a good time, too.
12
Dear Diane, I know it wasn't an easy journey leading up to my wedding last week, and we had a few moments of panic here and there.

But you were there the whole time, and you shone as a bridesmaid on the big day. Thank you from the bottom of my heart. 
13
Dear Alice, thank you for being a wonderful bridesmaid at my wedding on Tuesday.

I know you're very busy with everything going on in your life right now, so it means a lot to me that you spared all those weeks to get involved in my wedding. Thank you, thank you, thank you!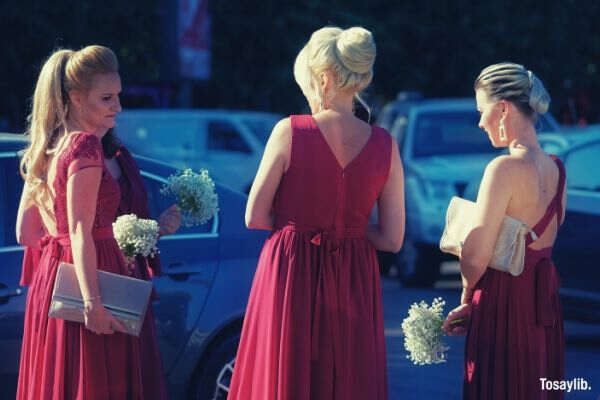 Photo by Immortal shots from Pexels
14
Hi Lindy, I was just looking at my wedding photos from last weekend, and I still can't believe how lucky I am. Not just for my partner, but for the incredible women I happened to land as bridesmaids, including you!

Thanks for supporting me on my big day, girl. God bless!
15
Dear Doris, I know I am not the easiest person to deal with. I also know that the path to my wedding last weekend was not the simplest.

But in all this, I had you by my side, and it was wonderful that you helped me with an amazing music playlist and taking care of the flower arrangements. Thank you for being a terrific bridesmaid, babe.
16
Dear Lindy, I know it's been just two days since my wedding, and you're probably still reeling from all the fun and dancing.

Still, I want you to know that I am absolutely thankful for your participation as a bridesmaid. You made my day a whole lot brighter. Thank you.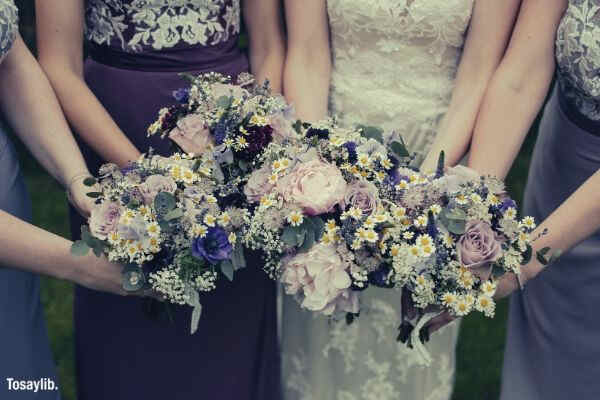 Photo by Thomas AE on Unsplash
17
My dear Grace, if I didn't tell you before, I am so thankful that you were a bridesmaid at my wedding last Tuesday.

You helped make the event so wonderful with the perfect wine and food combos. And the silver candelabra? That was the highlight!

My wedding would have been very different without you guys around, so John and I thank you from the bottom of our hearts.
18
Dear Gail, I want to express how honored I was by the fact that you were my bridesmaid last weekend at my wedding, and how you took care of the decorations, especially the fairytale chandeliers and the rustic stacked crates.

I know how busy you are around this time of the year, so the fact that you made the time means the world to me. I'll forever appreciate it.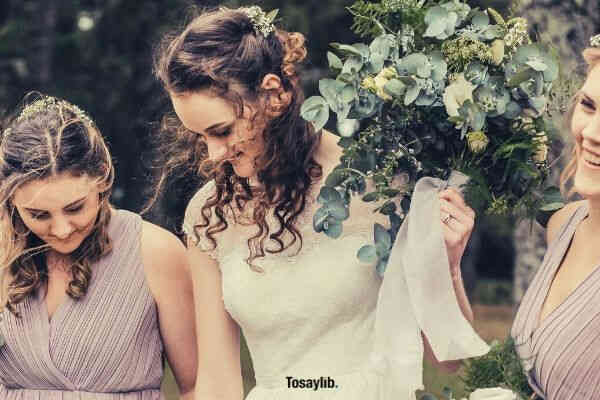 Photo by Sincerely Media on Unsplash
19
Lydia, I have a lot to thank you for regarding my wedding last weekend. You were one of the most beautiful bridesmaids I have ever seen, and you (plus the other girls) brought so much joy to the event.

I also have to thank you for your prayers! Everything went so well!
20
Dear Gail, this note is to express my thanks to you for being the exact bridesmaid I wanted for my wedding last weekend. You looked so good and put so much work into giving me the perfect day.

Thank you for bringing life to the reception, too. I am forever grateful.
Conclusion

The power of a good thank you note to your bridesmaids is that it expresses your appreciation genuinely without overdoing it. But not everyone is equipped to craft beautiful thank you notes to their bridesmaids.

If you have trouble writing one for your bridesmaids or your maid of honor, check out our simple examples above for inspiration.